Payment and Billing
Payment Methodology
Full details of the payment methodology can be found in the latest Contract Assistance Notes.
Customer payments are generally split into 2 categories.
Availability/Arming payments, earned at the acceptance phase, securing the participant for WPD operations
Utilisation payments, earnt on delivery of the service, incentivising delivery.
Payments have strong performance metrics within their calculations, aimed at ensuring delivery and are calculated from a baseline (see Baselining Methodology).The aim of the methodology is to encourage accurate declarations of availability and reliable delivery.
For example for the Secure and Dynamic utilisation payments, there is a 5% delivery grace factor followed by a 3% reduction in utilisation payments for each 1% of under delivery. This is administered on a minute by minute basis. This means that if a participant delivers 95% of their expected delivery they get full payment, however below 63% they get nothing.

In addition to the utilisation reduction there is also a monthly reconciliation to claw back availability/arming payments for under delivery. This looks at the average proportion of energy delivered (per event, capped at 100%) and is used as a multiplier for total availability and arming payments.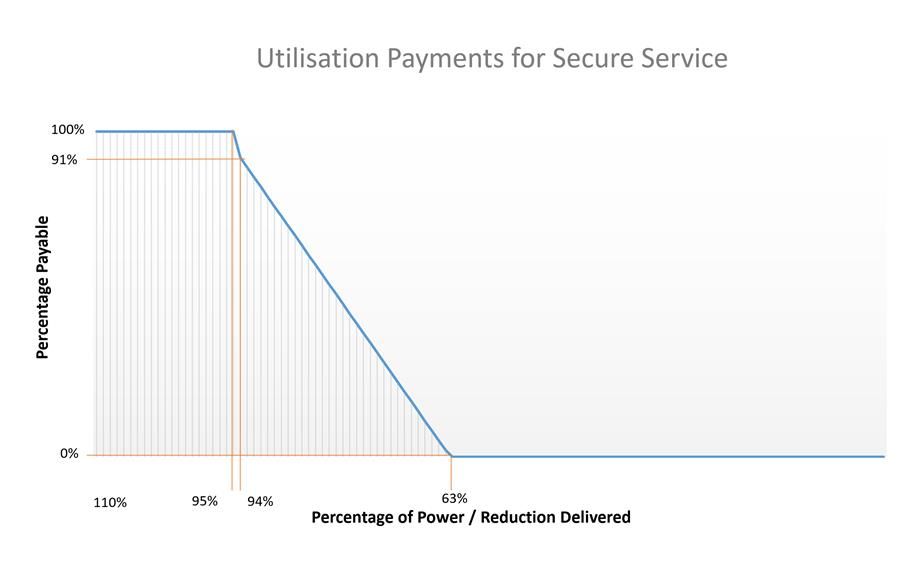 Based on the five example events above, the site achieved a total monthly volume equivalent to 92% based on the event average performance.
((80%+100%+100%+80%+100%))/5 = 92%

The Restore service also has a performance metric on utilisation with a 20% grace factor and a 2% ratchet. There is no availability or arming fee and so there is no monthly reconciliation.

See an example of what a performance statement looks like

Billing

The service and payment cycles are based on a calendar month and therefore we operate a total of 12 billing cycles within a year. After the end of each event a performance report is created and provided to the participant via the web portal, and this allows the participant to review their results. At the end of the month these event reports are then compiled along with the availability / arming payments and reconciliations for any shortfall of delivery. Participants should allow up to 14 days from the last day of the month to allow for the processing of the data to produce a full earnings statement.

Once the statement has been created and provided to the participant there is then a further 14 days during which they can raise a query against any aspect if there is any dispute over performance or subsequent earnings calculations.

If a query is raised, then the earnings statement is placed on hold until any concerns have been resolved. We would endeavour to try and complete this within the 14 day 'approval' window so as to avoid deviating from the standard payment timeline. If however this can't be achieved we will defer the payment to the following months billing cycle.

There will be a 'check box' with each monthly statement so that the participant can proactively 'approve' and confirm that they are happy with the calculations. If however no query is raised within the 14 day window it is then assumed to be correct and will generate a 'self-billing' invoice which can be downloaded for financial records and a duplicate sent to WPD accounts payable for processing. This should then be paid directly into the bank account provided within 30 days.

Further detail is provided within our billing guide. See an example of what an earning statement looks like.